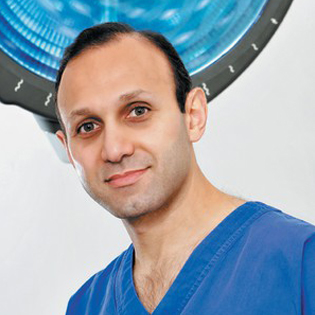 Dr Barnouti is a leading Sydney Plastic Surgeon specialising in cosmetic surgery that emphasises the natural beauty of the face, breast and body.
He has over thirteen years of surgical experience performing several thousand surgical procedures. He is recognised for his contributions to media and literature. The goal of a plastic surgeon is to improve a patient's self-image and Dr Barnouti takes that responsibility very seriously.
Dr Barnouti attributes his success to four factors: emphasis on short scars, his understanding of the patient's needs, observing the latest cosmetic trends and a strict adherence to safety.
Dr Barnouti's Experience As A Plastic Surgeon
Dr Barnouti has extensively trained as a Specialist Plastic surgeon at St Vincent's, Prince of Wales, Royal Prince Alfred, Royal Adelaide and Westmead hospitals – in cosmetic, plastic and reconstructive surgery. After fully qualifying as a Plastic Surgeon in Sydney, he travelled to receive an additional international fellowship in advanced cosmetic surgery in:
A 21st century scientific approach to Breast augmentation and reshaping surgery (Sweden)
Short scar Face Lift (Belgium)
Body and Buttock surgery (Brazil)
He is a member of the Australian Society of Aesthetic Plastic Surgeons (ASAPS) and a Fellow of the Royal Australian College of Surgeons (FRACS, PLAS.). The Royal Australian College of Surgeons is the only statutory recognised body for the training of plastic surgeons in Australia.
Dr Barnouti has published within the Medical literature, presented at scientific meetings and regularly attends national & international scientific congresses.
Dr Barnouti has also travelled and visited some of the leading European, American and South American advanced Plastic Surgery Centres to gain exposure to the latest global cosmetic surgery techniques and technologies.
Beverly Hills body, the state of the art Cosmetic Plastic Surgery, Beverly Hills, California, USA
Jacksonville Cosmetic Plastic Surgery, Jacksonville, Florida, USA
Paris Aesthetic Plastic Surgery
Sao Paulo, The centre of Body & Buttock reshaping and implants
Rio de Janeiro, Brazil, Aesthetic Plastic surgery centre, upper & lower limbs remodelling and calf implants
Singapore, Mastering Breast Augmentation.
Professional Memberships
Member of the Australian Society of Aesthetic Plastic Surgeons (ASAPS)
Royal Australian College of Surgeons (RACS)
Australian Medical Association

Dr Barnouti in the media