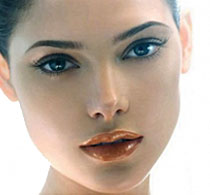 Aging of the face affects each patient individually. Therefore, consideration of any facial rejuvenation or recontouring is a very personal decision. The facelift procedure, or rhytidectomy, addresses many aspects of the aging face in order to restore a refreshed and youthful appearance. The common regions of interest among patients are typically the jowls and cheeks. With age, there is a loss of youthful volume in the mid-face region in most patients. There may also be concerns regarding the definition of the jaw line, or excess tissue around the neck which is visible as fullness, vertical bands, or the blunting of the angle below the jaw. The appearance of lines near your eyelids and mouth may also be evident as well as a lowering in the position of your brow. The facelift operation must be specifically tailored to each and every patient.
The 21st century approach to facial rejuvenation involves more than a tightening of the skin and deep tissue. It is a comprehensive strategy to produce a youthful appearance. It involves minimal scarring, skin resurfacing, liposuction, targeted liposuction, volumetric restoration and laser surgery, all in a synergistic surgical approach. It is our specific knowledge of facial anatomy, combined with a breadth of surgical techniques and the latest technology in plastic surgery that enables us to create an individualised approach for facial rejuvenation. The 21st century approach of facial beauty emphasises the importance of shifting facial volumes rather than applying traction on the skin. The restoration of facial volumes is more important than the amount of skin resected, the tension on the skin or the superficial musculo-aponeurotic system (SMAS).
Being one of the most technically demanding areas in plastic surgery, Doctors Barnouti and Kohout take pride in their approach to face lift, rejuvenation, and recontouring surgeries.
We advise you to bring along images of yourself when you were younger (20-30 years of age), preferably not smiling. We will study these photographs to determine the volumes and shapes needed to restore the healthy, desirable structure of youth.