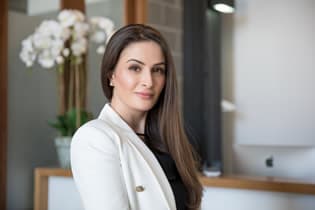 Marjan trained as a cosmetic nurse with Juv'ae and progressed to a Post Graduate Degree, followed by a Master's Degree from JCU. She has many years of experience in aesthetic injectables, working with several highly regarded industry leaders in cosmetic surgery and anti-ageing procedures.
Marjan is a member of IMCAS, the International Master Course on Ageing Science and regularly attends conferences organised by ASAPS, the Australasian Society of Aesthetic Plastic Surgeons.
Using the very latest techniques in non-surgical cosmetic procedures, she offers clients a personalised assessment of their areas of concern and the options available to them within their budget.
Her belief in non-surgical procedures is that they should enhance the natural beauty of a person and leave them with radiant-looking skin, not alter or freeze their appearance.
Some of the injectable procedures Marjan offers clients are anti-wrinkle injections, lip fillers, dermal fillers, facial slimming, PDO Threads, Aqua Gold, Hydrating Skin Booster Injections, Bio-Remodeling, and Bio-Stimulators.
Certain cosmetic procedures can last for several months or longer, so you need to ensure that you are being treated by a fully trained and experienced professional, who uses only the best quality products and the latest practices and equipment.
Whether it be age-related skin concerns or a body issue, you will find Marjan to be caring, professional, and an expert in her field.