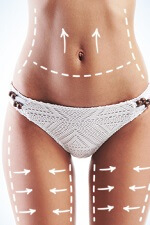 So you've just undergone a surgical liposuction procedure – what's next? Well you'll have to go through the recovery process. Unfortunately such a process can be difficult for many people as it brings much discomfort and it's not uncommon for many patients to struggle with bouts of depression after undergoing such a complex procedure.
It would be best for patients to set the right expectations and know all that they can about the procedure in order to go through the recovery process as smoothly as possible.
What to expect about the liposculpture surgery recovery process
Now recovering from surgical liposuction in Sydney tend to vary among patients depending on a wide range of factors including the health of the patient, any underlying condition that may affect the recovery process and the skill of the plastic surgeon performing the procedure. Read on for an average timetable for recovering from liposculpture surgery:
From 1 to 2 weeks, it is perfectly normal for a patient to experience pain which can be mild or very severe. When experiencing the latter, patients may have to take in some pain meds to ease the discomfort under the advice of his or her cosmetic surgeon. Bandages will need to be kept clean and changed. After 3 to 4 days, the wounds from the operation should have already healed although some bruising is typical which can take as long as 10 days to dissipate. After such a time, patients are typically able to get back to work and get on with their social lives although it is advised to refrain from any strenuous activities for at least 3 weeks.
In 3 to 4 weeks time the pain from the surgical liposuction operation should have already gone down although some might still experience some numbness and swelling on the affected area. Patients should start recovering some sensation and feeling in the treated area although the swelling may persist but the results should be apparent by then.
Now most of the discomfort following surgical liposuction will be during the first two weeks following the operation. Again patients that are in a great deal of pain can turn to pain meds for relief. It is important to note that such discomfort is perfectly natural and that in addition to the pain, patients may feel some burning or tingling sensation as the nerves begins to heal.
Of course considering the discomfort patients may want to refrain from moving around excessively although it is recommended that you should move and walk around as much as possible to minimise the possibility of blood clots. You can wear compression garments for a couple of weeks to help with the recovery as it helps to reduce swelling.
The path towards recovery is best taken slow and gradual as patients get back to their normal routines. Don't rush things – surgical liposuction cost can be quite significant so it would certainly be in your best interest to learn all that you can about what to do and what not to do after the said procedure if only to make the best out of it.
Would you like to know more about liposuction or are you interested in undergoing such a procedure? Call Australia Plastic Surgery today on 02 9561 0200 or 1300 004 008 and consult with one of our surgical liposuction experts today!