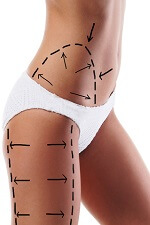 Year after year, thousands of people opt to undergo liposuction in Sydney in the hopes of getting a more desirable figure. Such a cosmetic surgical operation is highly recommended for people that seek as much and struggling to get rid of problem areas in their body.
Now as you may already know, liposuction is basically a body sculpting surgical procedure that works by essentially sucking away fat from the body. Such a procedure was originally introduced in France more than 2 decades ago and has then improved leaps and bounds to make it a lot more effective and safer than it ever was.
Of course as an invasive surgical procedure, liposuction in Sydney isn't for everyone and patients need to make sure that they are a good candidate for the operation.
Are you a suitable candidate for liposuction?
A good candidate for any liposuction operation is someone who is of fairly good health and of normal weight. Such a requirement often catches a lot of interested people off-guard. After all, a lot of people struggling with stubborn fat deposits also have weight problems as well. Never the less it is important to understand that liposuction is not a solution for reducing weight.
Other qualities expected out of an ideal candidate for liposuction in Sydney are individuals with great muscle tone and skin elasticity. Of course it also helps if the patient has no underlying medical conditions and a non-smoker. More importantly, candidates for the procedure need to have a healthy outlook and resolve to undergo the procedure strictly for themselves.
Think of it this way – if you are someone struggling with love handles or other problem areas and of fairly good health with good skin tone, then a liposuction treatment is certainly something that you might want to look into. If however you just want to lose a couple of pounds with no definite goals and predisposed to various health conditions like obesity then you must understand that your plastic surgeon simply may not be able to clear you for the procedure.
Undergoing a liposuction operation
Now for patients that are obese or overweight, undergoing a weight loss program is highly recommended before even thinking about liposuction. As an alternative, overweight patients may be better off undergoing abdominoplasty or tummy tuck operation which is also ideal for patients that lack skin elasticity.
Liposuction is strictly intended to sculpt the body in a more attractive and desirable form. Performing the said procedure on patients who are less than ideal may result to rippled or grooved skin with unsightly folds.
Again liposuction is not a weight loss treatment nor is it intended to address stretch marks or cellulites and it's important for patients to understand all that if only to set the right expectations and avoid disappointments.
Are you interested and would like to know more about liposuction? Are you looking for some of the best and most reputable plastic surgeons in the country?
We at Australia Plastic Surgery can certainly offer you just that and more! Call us today on 02 9561 0200 or 1300 004 008 to arrange a consultation.