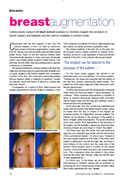 Sydney plastic surgeon Dr Mark Kohout explains to Christine Doggett the evolution of breast surgery and implants and the options available to women today.
Compared with the first implants of the '60s, the silicone implants of the '70s were an enormous improvement and breast augmentation surgery really took off. Silicone was soft and better approximated natural breast tissue. "Even so, the first silicone implants were characteristically globular in shape and were unnaturally round," says Sydney plastic surgeon Dr Mark Kohout, "and with their smooth shells, they were predisposed to capsular contracture, or hardening."
The technical limitations of these implants with their thin shells and very liquid silicone meant that their durability was not great, leading to the implant ruptures and consequent 'scandal' of the '80s. The controversy surrounding leaking silicone implants raised a multitude of questions, studies and lawsuits about the impact of silicone in contact with the body's tissues.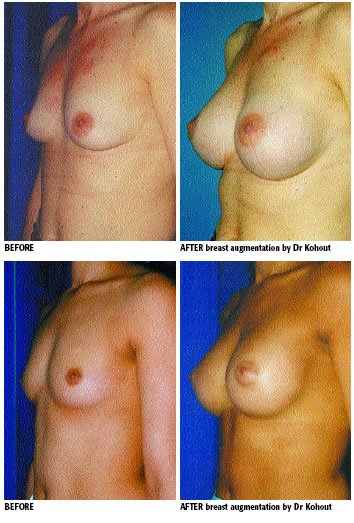 Consequently, for a period of time, saline became the popular replacement for silicone. (Saline is mandatory in the USA). However, according to Dr Kohout, saline implants feel less natural, are harder, and have a potential to leak.
The adverse publicity of the late '80s to the early '90s encouraged serious market research by implant manufacturers and led to a new generation of improved silicone implants in the form of the cohesive silicone-gel implant.
'The implant can be tailored to the physique of the patient …'
"As the name would suggest, the silicone is not especially liquid but more jelly-like," Dr Kohout explains. "Furthermore, the shape was improved with the advent of the tear- d rop shaped, anatomically styled implant. This implant has a thin upper edge and a fuller lower pole, much like the natural breast.
"A further big advance was the development of textured shells, which are much less likely to cause hardening," he continues. "These technical improvements to implants in terms of cohesive silicone-gel, textured shells and better natural shapes mean that the long-term aesthetic result is enhanced and more predictable."
In the mid to late '90s, this concept was extended even further with the advent of the Matrix implant system, where no matter what the size or volume of the implant, an increased number of configurations became available. The implant can be tailored to the physique of the patient in terms of height, width and projection. The result is therefore much more natural, more appropriate to the physique of the patient, and the flexibility is generously improved when choosing a breast size and shape to 'match' the patient.
"Just three years ago, this whole more real anatomical approach was extended even further with the introduction of the asymmetrical implant," Dr Kohout says. "Instead of the same shaped implant for both sides of the chest, each implant is dedicated to the left and right side, and there is more fullness to the bottom and the outer side of the implant! These implants tend to conform to the natural contours of the chest better and give a very natural breast form. This is apparent when the patient is lying down because the breast falls naturally, unlike the tell-tale signs of older augmentations."
Dr Kohout says, "In the future, we can expect further improvements to implants, always with an emphasis on producing the most natural looking breast possible, rather than simply augmenting the size."